What do you do when you can't find the perfect gift set for a friend but don't want to give them just one thing? Create your own! Here are a few ideas of gifts you can group together.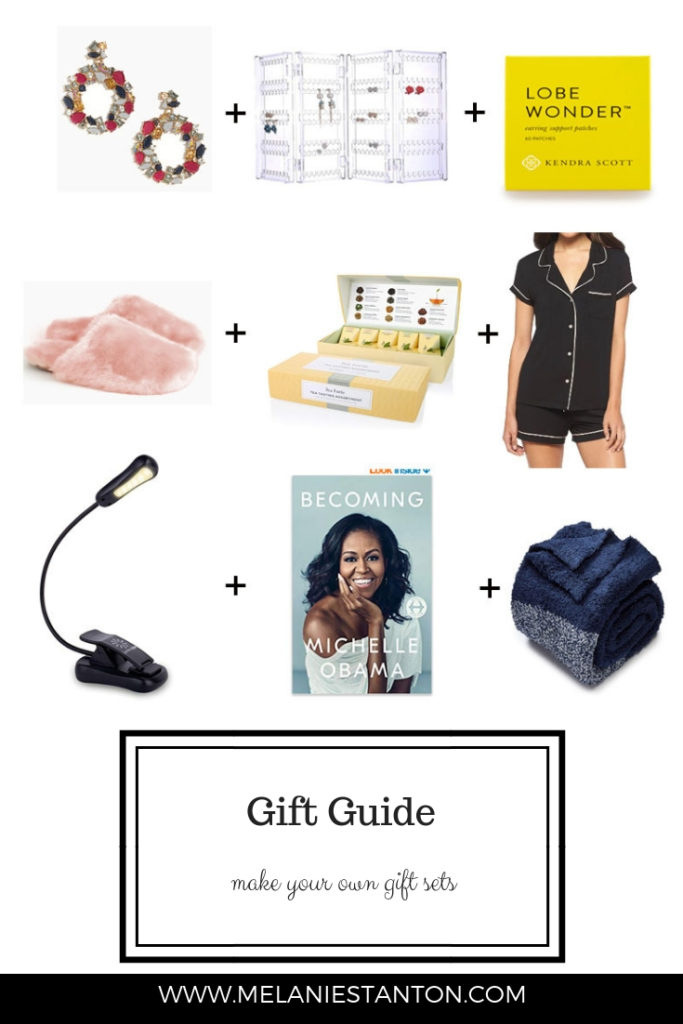 Statement Earrings + Earring Storage + Lobe Wonder
This gift would be so FUN and PRACTICAL! A good pair of statement earrings is really all you need to dress up any outfit! The Lobe Wonder from Kendra Scott is like the world's best kept secret. They're stickers that you put on the back of your ear when wearing big, heavy earrings to keep them from sagging.  And this earring holder is number one on my list.  My earrings need a home and this is the best solution I've found.
Fuzzy Slippers + Fancy Tea + Comfy PJs
The perfect cozy gift set.  Are any of your friends a 20-something grandma like me? I know I'm way happier at home drinking tea and wearing these ($20) pajamas than a night out.
Reading Light + Book + Throw Blanket
I LOVE getting my friends books as gifts. I usually seek out books they will (obviously) read but will also look nice on their coffee table when they're done. But, I always feel like giving a book just isn't enough.  And I love the idea of adding a reading light a super cozy blanket to give the gift of a reading experience.  Another idea (and something I gave my best friend for her birthday) is Alli Webb's Drybar book + a gift card for a blowout.
What gifts are on your wish list this year? Comment with your answer below!
Disclosure: I may receive small compensation when you click on my links.  
As always, I appreciate you taking the time to visit my site and support my passion of sharing the best deals!